The BlueBio4Future researcher Leandro Mattos secured a $133,588 USD grant on Google Cloud Platform
We are thrilled to announce that Leandro Mattos Pereira has secured a research grant of $133,588 USD in credits on the Google Cloud Platform!
This grant, awarded in the "2ª edição Concurso de Projetos de Computação Avançada: Inteligência Artificial em Cloud," will empower our team to delve deeper into unraveling Fatty Acyl-AMP Ligase substrates in Cyanobacteria using artificial intelligence.
This project aligns seamlessly with the BlueBio4Future mission to advance marine biotechnology research. Bioinformatics, a critical area of focus, will be significantly enhanced through this endeavor. We're poised to conquer new knowledge, positioning CIIMAR at the forefront of top-tier research.
Stay tuned for updates on this exciting journey into the future of marine biotechnology!
The International Conference on Marine Biotechnology showcases frontier research and innovation on ERA Chair BlueBio4Future
The conference was held as part of the ERA Chair BlueBio4Future, which aims to establish CIIMAR as a European reference for excellence in marine biotechnology.
The International Conference on Marine Biotechnology was held on September 12, 2023, as part of the ERA Chair BlueBio4Future, and brought together researchers and stakeholders in the field of marine biotechnology. This event, organized by the Interdisciplinary Centre of Marine and Environmental Research (CIIMAR) at its headquarters in the Cruise Terminal of Leixões Port, Matosinhos, Portugal, drew more than 130 participants and served as a watershed moment in understanding the potential of emerging bioengineering fields such as synthetic biology, biocatalysis, bioinformatics, and bioprocessing in Marine Biotechnology.
Vítor Vasconcelos, the ERA Chair coordinator and President of the Board of Directors of CIIMAR, welcomed the guests, speakers and audience, and followed up with remarks from stakeholders Miguel Marques, of INOVAMAR, and Ana Brazão, of Oceano Azul Foundation. Madalena Alves, President of the Board of Directors of Fundação para a Ciência e Tecnologia, delivered a message, while António Costa Silva, Minister of the Economy and the Sea, made an inspiring intervention. As a result, the conditions for an enriching day were established.
Pedro Leão, ERA Chair Holder, presented the main lines of the BlueBio4Future project and its impact on global challenges for responsible use of marine resources, as well as the CIIMAR's position as a reference institution in the field of marine biotechnology, whether in research and innovation, or in the transfer of knowledge and technology to the academic and business communities.
Following the intervention of emerging specialists in the development areas of the BlueBio4Future project, Avena Ross of Queen's University in Canada, Tobias Gulder from Dresden Technical University and Eric Helfrich from Goethe University and the LOEWE Center in Frankfurt, both of them coming from Germany, as well as Maria Barbosa from Wageningen University and Research in the Netherlands. We also have presentations by CIIMAR researchers, Paulo Oliveira, Konrad Viehrig, Adriana Rego, and Mariane Fagundes, who show and discuss the most recent advances in their research.
The exhibition "What is the Future of Marine Biotechnology?" was also shown for the first time, prepared by the BlueBio4Future project team and aimed at the general public, and will travel to various scientific institutions and organizations.
Throughout the conference, participants engaged in discussions and questions, as well as opportunities for networking and knowledge sharing.
A platform was provided by the International Conference on Marine Biotechnology to encourage collaboration and scientific research towards sustainable practices in the domain of marine biotechnology, in order to ensure the long-term survival of our oceans.
This project has received funding from the European Union's Horizon 2020 research and innovation programme under grant agreement No 952374.
Pedro Leão received an ERC Consolidator Grant
Pedro Leão, the ERA Chair holder for BlueBio4Future, was awarded an ERC consolidator grant to continue his work on identifying novel enzymes from cyanobacterial sources.
The project, which falls under the BlueBio4Future research framework, will boost the influence of the ERA Chair on the regional and national scientific communities and put CIIMAR research on an international level.
Short Course in Synthetic Biology
29th – 31st May | Atmosfera M
The first BlueBio4Future Short Course in Synthetic Biology consisted of a three-day experience of learning. On the first day, the ERA chair action team members Eunice Ferreira, Konrad Biehrig, Paulo Oliveira, and Pedro Leão taught the students the fundamentals of synthetic biology, with assistance from Paul D'Agostino on the particular context of the SLIC-DiPAC approach.
The second day's opening remarks were made by Julie Zedler of the University of Jena (Germany), who explained how (re-)organizing enzymes in the cellular environment might significantly increase the metabolic flux toward an interesting product and, consequently, develop cyanobacterial biotechnology.
Then, Paul D'Agostino from Dresden University of Technology (Germany) gave a presentation to the audience on how DiPaC might one day be an essential method for capturing biosynthetic gene clusters and building metabolic pathways, with important implications for the functional characterization of novel natural product pathways.
After lunch, we met with Vincent Libis, an INSERM researcher in Paris (France), who shared his more technological perspective on the exploration of sequencing and bioinformatics techniques that enable the prioritization of biosynthetic genes predicted to encode new metabolites. Cloning and heterologous expression of such genes can speed up the discovery of therapeutically relevant molecules.
The last speaker of the day, Stephen Wallace from the University of Edinburgh (United Kingdom) demonstrated how synthetic biology can be used to allow the bioconversion of plastic waste into industrial chemicals that are currently produced from fossil fuels, as well as how synthetic biology and synthetic chemistry can be combined to allow the use of abiotic chemistry in living cells.
The final day of the course involved a hackathon where the students developed projects using synthetic biology approaches on the topics of Natural Products, Biocatalysis, Biosensors, Bioremediation, and Minimal Cells.
We thank the committed learners who made this course a success and the invited speakers for sharing their enlightening science!
Graphical Design Workshop
25th May | CIIMAR Headquarters 1st floor
The ERAChair collaborates once more with the BYT| Blue Young Talent program and promotes a workshop on graphic design.
This course, which is only open to BYT students and members of the CIIMAR community, seeks to provide participants with the skills necessary for scientific visual communication through graphic design and illustration.
Pedro Leão, Mariana Girão and Maria Lígia Sousa from CIIMAR are speakers for the day.
BlueBio4Future Training Courses
29th May to 31st May |
Atmosfera M – Porto
Rua Júlio Dinis, 158/160, 4th floor
4050-318 Porto
BlueBio4Future is about to launch several short courses!
The purpose of these courses is to equip CIIMAR researchers with cutting-edge biotechnological research knowledge in Green Chemistry/Biocatalysis, Synthetic Biology, Bioinformatics, and Bioprocesses/Bioreactors.
This first course introduces the area of synthetic biology and its underlying natural scientific and engineering basis. It will be focused on synthetic biology, emphasizing core ideas of using an engineering-driven approach to speed up the design-build-test loops required for modifying existing biological systems and creating new ones.
The three-day training will be divided into teaching sessions on the first day, which will cover the fundamentals of synthetic biology.
On the second day, we will have invited speakers who will share with the audience of their most recent research and knowledge. Students will have the opportunity to interact closely with these researchers.
Below you may find additional details on the invited lecturers!
Students will be challenged with hands-on training on the last day.
Registrations will be opening soon and more details are coming up!
Vacancies are limited.
For course attendance, the CIIMAR community gets preference.
Julie Zedler completed her PhD in the Colin Robinson Lab at the University of Kent in the United Kingdom. There, she investigated the potential of microalgae as a cutting-edge platform for the development of recombinant proteins and high-value compounds and engineered a different route for more effective carbon fixation in model cyanobacterial systems. Julie's study focuses on developing molecular engineering tools to increase the yields of microbial products.
She currently holds a junior professor position at Friedrich Schiller University Jena (tenure track).
Paul D'Agostino is a molecular microbiologist who specializes in biochemistry, genome mining, and the synthesis of natural products. After completing his PhD at Western Sydney University in 2014, he had postdoctoral positions at the Technische Universität München and the University of New South Wales (Australia).
At the moment, Paul M. D'Agostino is working at the Technische Universität Dresden with a focus on the discovery of natural products using genome mining, direct pathway cloning, and heterologous expression.
Stephen Wallace completed his PhD in Organic Chemistry at the University of Oxford's (University College), where he worked on the total synthesis of Gephyrotoxin family of compounds.He moved to Cambridge in 2012 to begin a Career Development Fellowship in Professor Jason Chin's lab at the MRC Laboratory of Molecular Biology. He developed several strain-promoted Diels-Alder click reactions for the site-specific labeling of proteins in E. coli using AMBER stop-codon suppression. Stephen then moved to Harvard University's Department of Chemistry and Chemical Biology in 2014, where he worked in Prof. Emily Balskus' lab. He created abiotic, non-enzymatic processes to be used with metabolically modified bacteria. In 2017, Stephen accepted a position as a Lecturer in Biotechnology at the University of Edinburgh. There, he has been conducting independent research at the intersection of synthetic chemistry and synthetic biology. He was assigned in 2019 to the California Institute of Technology's Department of Chemical Engineering, where he collaborated with Prof. Frances Arnold on the directed evolution of enzymes. Stephen received a UKRI Future Leaders Fellowship in 2020 to support his work on the sustainable synthesis of industrial chemicals using a combination of chemical catalysts and engineered microorganisms.
Vincent Libis obtained his PhD at the Institute of Systems and Synthetic Biology – CNRS Institute on the subject of "New inputs for synthetic biological systems" while working with the BioRetroSynth research team. After completing his doctorate, he worked as a postdoctoral researcher at Rockefeller University, developing scalable methods for the discovery of biologically active compounds with Prof. Sean Brady, at the Laboratory of Genetically Encoded Small Molecule. One of his most notable findings was related with the exploring and exploitation of the biosynthetic potential of rare metagenomic DNA using network analysis of targeted sequences.
He just became the leader of the research group at INSERM in Paris, France, where he is focusing on the development of synthetic biology techniques for the identification of bioactive compounds.
BlueBio4FutureTraining Courses
10th and 11th of November 2022 | CIIMAR
The BlueBio4Future training courses are designed to equip CIIMAR staff and researchers with a variety of bioengineering-related skills and horizontal competencies that can help CIIMAR successfully obtain research funding and achieve research excellence. On the 10th and 11th of November, two courses on project management and grant proposal writing for CIIMAR collaborators occurred.
Five researchers from CIIMAR, Vitor Vasconcelos, Rita Azeredo, Sergio Boo, Benjamin Costas, and Pedro Leão, were invited to present their experiences with their successes and failures with grant applications under the European framework on the Course in Granted Proposal Writing.
The next day, Margarida Costa and Susana Moreira discussed with the participants about the best practices for project management, and a hands-on exercise was carried out to enhance the way projects are currently managed at CIIMAR.
These were two extremely busy and active days, which we hope enabled the participants generally improve their personal and professional skills and will be mirrored in future grant applications.
Check out BlueBio4Future Newsletter #1 and don't forget to subscribe!
If you don't see the newsletter in your inbox, check your SPAM folder.
CIIMAR Open Day was a success!
The CIIMAR Open Day was held simultaneously with "Dia do Porto de Leixões" celebrations, and the BlueBio4Future action team was there to share marine biotechnology information with the general public through specially created board games.
The CIIMAR Headquarters hosted this event on September 18, 2022, and it attracted over 20,000 visitors in just one day!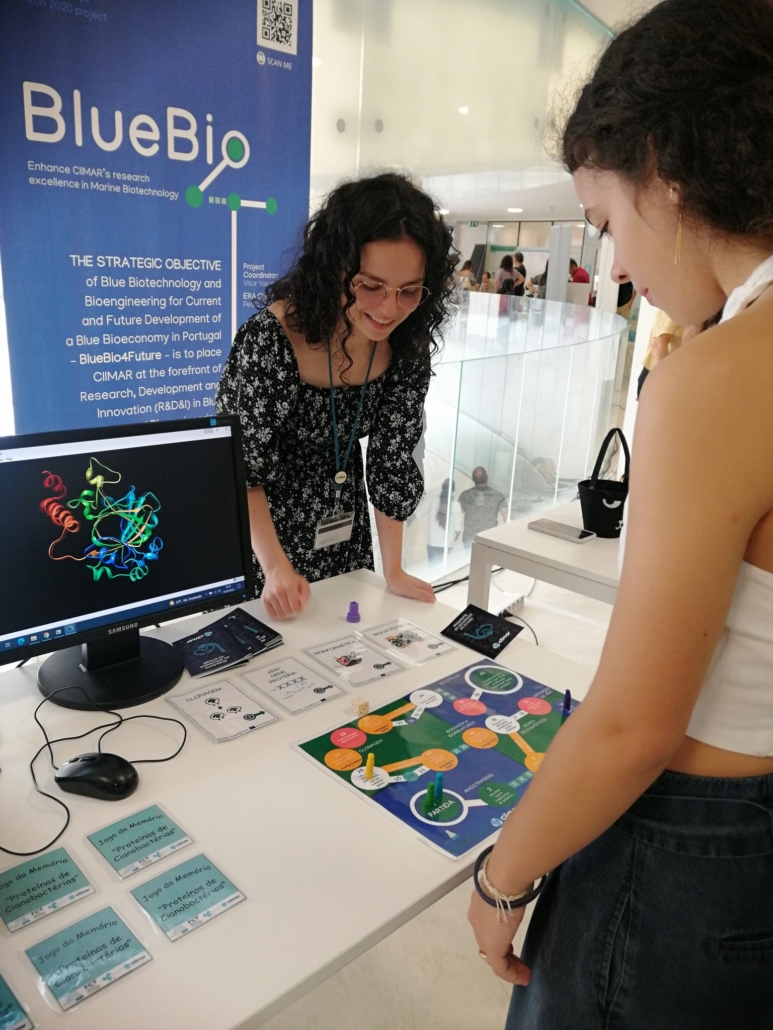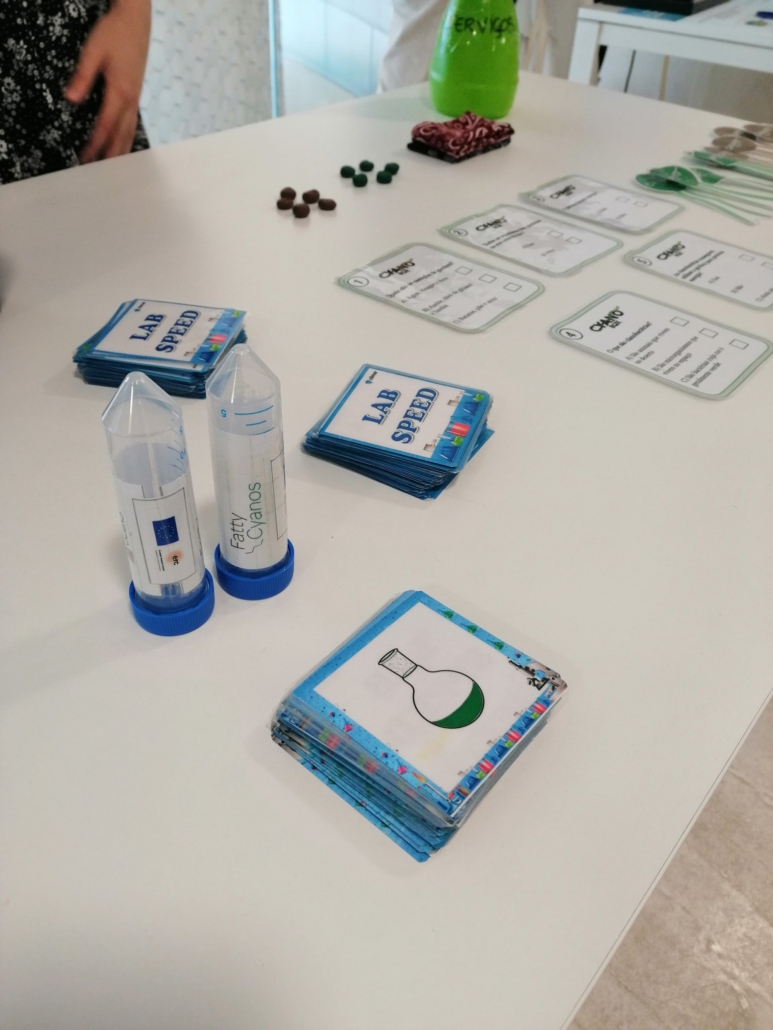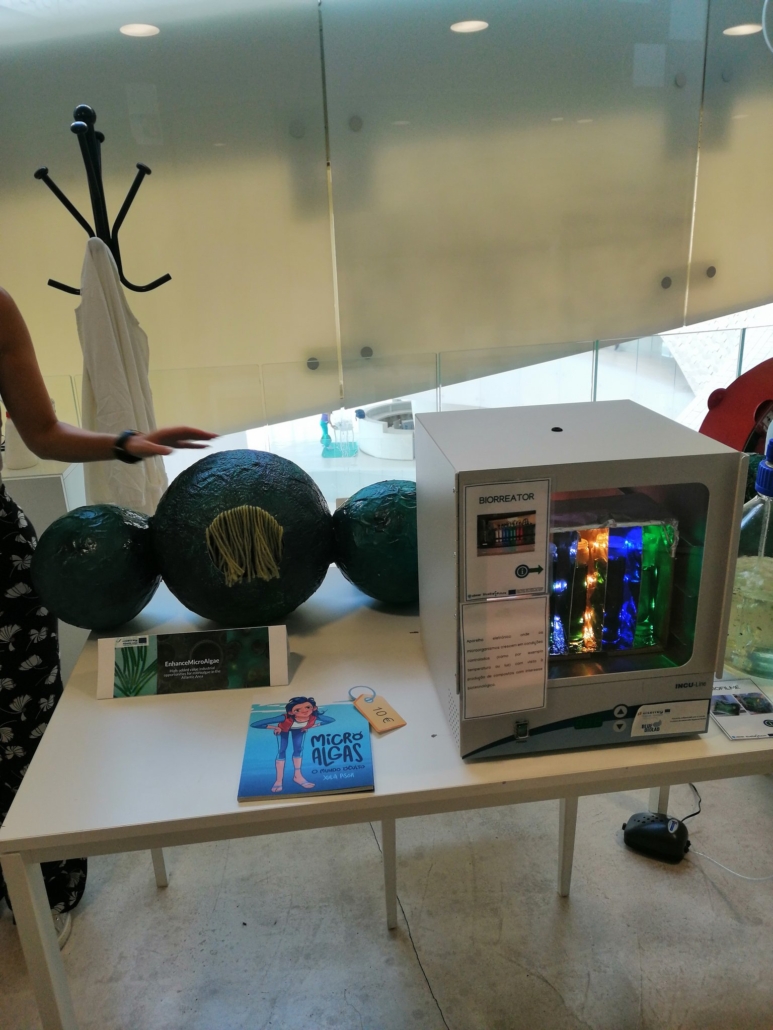 BlueBio4Future dissemination flyer is out!
Participation on the 7th Iberian Congress on Cyanotoxins and 3rd Iberoamerican Congress on Cyanotoxins
The ERA Chair Coordinator, Prof. Vitor Vasconcelos was a member of the Scientific Committee of the 7th Iberian Congress on Cyanotoxins and 3rd Iberoamerican Congress on Cyanotoxins and Guest Speaker with the talk"30 years of a collection of cyanobacterial and microalgae cultures: LEGE-CC and its contributions to cyanobacterial ecotoxicology and biotechnology".
Also, recent work developed involving BlueBio4Future action team was presented on the poster session!
The BlueBio4Future action team is growing!
Our action team is growing and we have new members joining the club!
Paulo Oliveira is the junior research specialist in Synthetic Biology.
Eunice Ferreira is a research technician in microbial genetics and molecular biology.
Marco Preto is the team chemistry research technician.
Sara Freitas is a research technician specializing in biomass growing and metabolites isolation.
Mariana Moutinho will help the team with the technical manipulation of the photobioreactors.
Maria Lígia Sousa is the Science and Technology manager of the BlueBio4Future project.
More members to come! Stay tuned!
Participation on the Synthetic Biology of Natural Products Conference
We are strengthing our science!
Pedro Leão, ERAchair Holder, Maria Lígia Sousa, Science and Technology manager, and Sara Freitas, Research Technician of the BlueBio4Future project presented the first research results of the project at the 3rd Synthetic Biology of Natural Products Conference, last May, in Mexico.
Of this initiative resulted in new contacts and future collaborations!
Participation on the GRC Marine Natural Products
Pedro Leão shared on the Gordon Research Conference in Marine Natural Products (6th-11th of March, 2022) the first results on "Heterologous expression of the cyanobacterial lipopeptides microginins".